What is the Climate Action and Community Engagement (CACE) Online Micro-Certificate?
The Climate Action and Community Engagement Micro-Certificate is an 8-week online 'train the trainers' program that allows learners to gain the skills and understanding required to engage and train local climate champions.
Why choose the CACE Micro-Certificate?
Prepare to address urgent climate action needs
Recent climate extremes have underscored the urgency of building better community communication programs and taking community-wide action to climate-proof homes and critical infrastructure. This program provides new skills and career opportunities to address the rapidly growing need for civic engagement in climate action in communities that are increasingly vulnerable to climate change extremes.
Create bridges between science and policy with ground-up action
This program aligns well with current BC Government and municipal priorities, such as the Clean BC Roadmap to 2030 and BC's Climate Preparedness and Adaptation Strategy, which calls for greater capacity building and engagement to build community resilience against worsening heatwaves, wildfires, flooding and infrastructure disruptions. Students will gain key competencies and practical skills in bridging ground-up climate action with local and regional climate policy.
Receive tried-and-tested training
This program draws on UBC Forestry's Collaborative for Advanced Landscape Planning (CALP)'s proven experience in engaging communities across BC, including the successful Cool Hood Champs program that has been tested across diverse Vancouver neighbourhoods and Oak Bay, Victoria.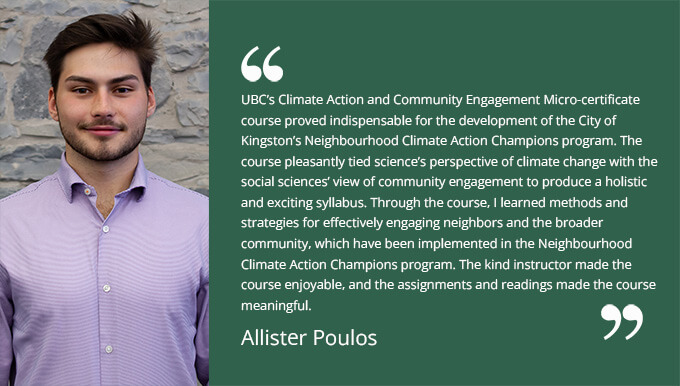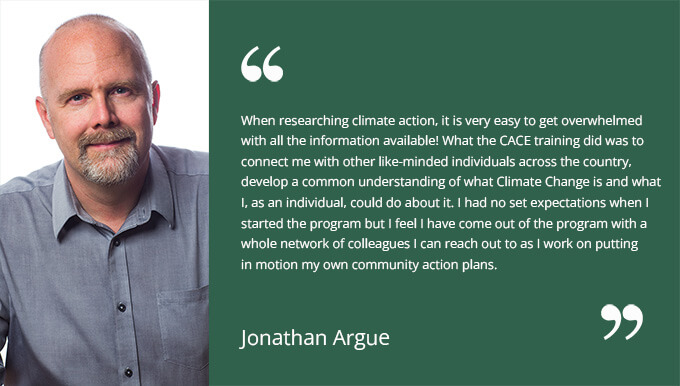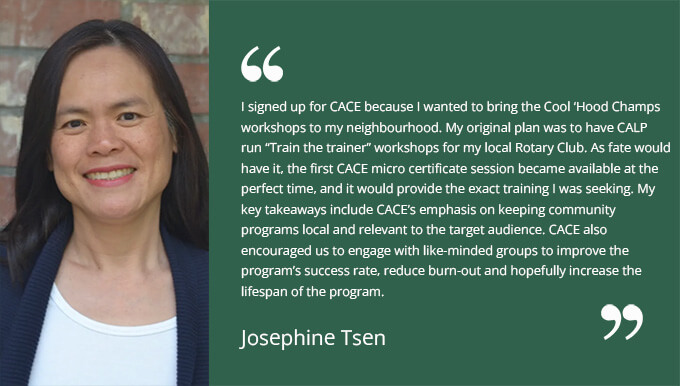 What will you learn?
Climate change and low carbon resilience at the local scale: Knowledge building on local aspects of climate change and climate solutions
Principles and tools for engaging communities in climate action: Techniques for effective neighbourhood scale engagement
Training on climate change outreach and Climate Action Plans: Skill development on communications, recruitment, and organization required to foster individual and collective Climate Action Plans within communities
Who should apply?
Mid-career practitioners in diverse sectors (including municipal government staff, engagement consultants, NGOs, local community groups, First Nation community organizers, educators, and employees of sustainability-oriented businesses seeking to improve Corporate Social Responsibility. These practitioners will be able to gain practical and new applied skills, building capacity and competencies in engagement and leadership on local climate action, improving their employability in the sustainability and climate sector
Entry-level learners such as potential community champions interested in climate action and prospective students seeking to access secondary education (undergraduate or graduate levels) in relevant disciplines (e.g. urban planning, urban forestry, landscape architecture and geography)
Employment Opportunities
This micro-certificate provides various pathways for accessing skill and career development, including 'laddering' to improve the success of entry-level learners (e.g. youth, equity-seeking residents and future community champions) in entering secondary education credit programs.
Learners can also use this non-credit micro-credential to help meet entry requirements for relevant UBC undergraduate or professional Master's programs, such as Forestry's Bachelor of Urban Forestry Program or Master of Urban Forestry Leadership Program.
Furthermore, UBC is currently developing a "Digital Badges" scheme as indicators of accomplishment or skill that can be displayed, accessed and verified online (and added to LinkedIn profiles); this will be applied to our proposed micro-certificate, to provide employers with verification of learners' competencies and assessment outcomes.