Meet the core MIF faculty involved in the MIF program.
Dr. Terry Sunderland
Terry Sunderland is currently a Professor at the Faculty of Forestry, University of British Columbia, Canada focusing on the biological and human dimensions of the sustainable management and utilization of tropical forests. He was previously a Senior/Principal Scientist at the Centre for International Forestry Research (CIFOR), Indonesia, where he coordinated CIFOR's work on forests and food security, biodiversity conservation, and integrated landscape management. Prior to joining CIFOR in early 2006, Terry was based in West Africa for over fifteen years and worked on numerous conservation and livelihood-focused initiatives. Having both a field practitioner and academic background gives him a wide perspective on conservation, livelihoods and issues related to sustainable landscape management. Terry has a Master's degree in Forestry from the University of Oxford and a PhD from the University of London. He has published more than 240 research papers, book chapters and edited books, and supervised many graduate studies related to tropical forestry, focusing particularly on the capacity of developing country scientists. Terry is an active blogger, Twitter user, and engages regularly with the media on disseminating research for policy influence and outreach.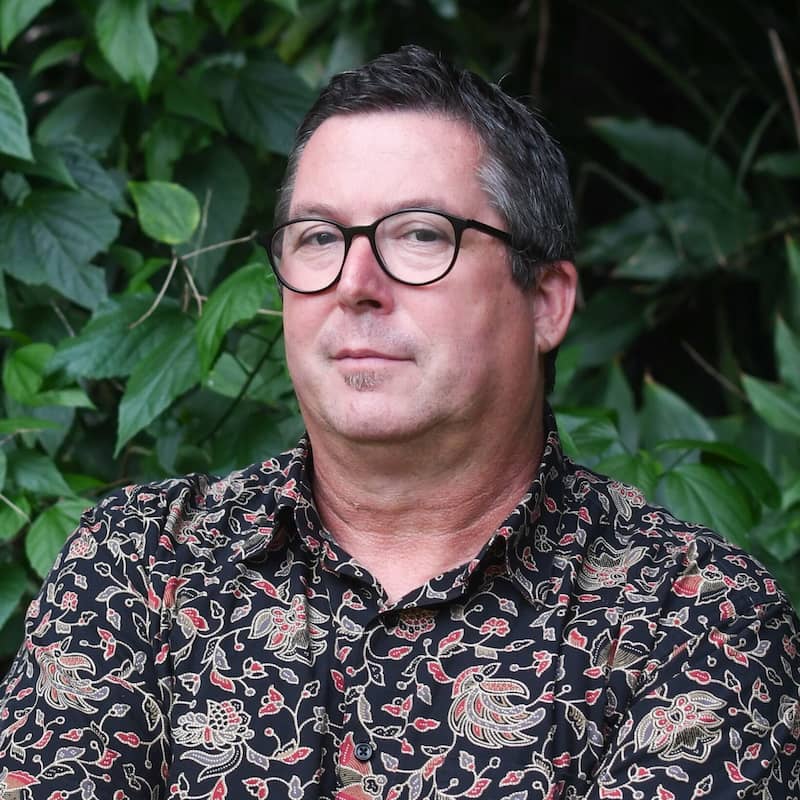 ---
Dr. Peter Wood
Peter Wood has worked in the field of international forest policy, human rights and sustainability for over two decades in a variety of roles, including with non-governmental and intergovernmental organizations. He has served on various international expert bodies, such as the Global Expert Panel on International Forest Governance (IUFRO), and has been involved in the development of multilateral agreements on climate change and biodiversity. He completed his PhD in Forestry at the University of Toronto.
---
Dr. Agni Klintuni Boedhihartono
Agni Klintuni Boedhihartono has a multidisciplinary background (Anthropology, Fine Arts, Cinematography, and Natural Sciences). She has a Doctorate in Ethnology & Visual Anthropology from the University of Paris 7, France. She went to the Ecole National Superieure des Beaux-Arts and the University of Paris 7 in France to pursue her passion in arts, culture, people, and sciences. Intu subsequently worked for the United Nations Environment Program and the International Union for the Conservation of Nature in Switzerland. Intu joins UBC after spending eight years running a master's program in Development Practice at James Cook University in tropical northern Australia
Intu has worked with multidisciplinary teams in remote locations in tropical landscapes and seascapes in Asia, Africa, and Latin America. Intu has focussed on issues with indigenous people and local communities, particularly on the importance of their traditional knowledge and wise practices in natural resources management and the conservation of their cultural diversity. Intu's research has sought to enable forest-dependent people, coastal communities, and indigenous groups to achieve a balance between conservation and social, cultural, and economic development.
Intu uses visual techniques to explore landscape scenarios and other participatory methods to maximize the involvement of diverse stakeholder groups. Her goal is to have an influence on global efforts to support indigenous people and local communities to improve their livelihoods whilst retaining their identity, cultural diversity, traditional knowledge, environment, and natural assets.
---
Dr. Chris Gaston
Chris Gaston is an Associate Professor at the Faculty of Forestry at the University of British Columbia and past manager of the Markets & Economics Group at FPInnovations in Vancouver, British Columbia. He has degrees in Forestry Economics (Ph.D.) and Agricultural Economics & Business (B.Sc., M.Sc.) from the University of British Columbia and the University of Guelph, Ontario, Canada.
Chris has worked in both academics (teaching and research) and industry (management, consulting, research), with over 35 years' experience in agribusiness and forestry. His research and consulting have focused on price-risk management strategies, market research, econometrics, and trade modeling. Recent research efforts have included value chain optimization and product development for Canada, the United States, Japan, China, and Europe, including for Aboriginal communities. Chris has co-supervised over twenty M.Sc. and Ph.D. students, as well as managing a national staff of markets and economics researchers for nearly two decades. He is also past Chairperson and active member of the "Team of Specialists for Forest Products Marketing" for the United Nations Economic Commission for Europe. He has published widely and has spoken at conferences throughout the world.
---
Dr. Janette Bulkan
Dr. Janette Bulkan comes from a forestry family. As an undergraduate at the University of Manitoba, she moved from linguistics to anthropology. She has conducted many social surveys and livelihood studies. She works in community and social forestry, forest certification, participatory resource management, monitoring and evaluation, cultural diversity awareness and protection, and teaching and mentoring. Janette also works on tenure systems, control of illegal logging, anti-corruption, and REDD+ (Reducing Emissions from Deforestation and forest Degradation). She works with Indigenous and traditional/local communities in the Amazon regions of Guyana, Suriname, and Peru and is currently developing a collaborative research program with community forestry associations in British Columbia.
Janette is a member of the Governing Council of the Commonwealth Forestry Association and a member of the Forest Stewardship Council's (FSC) Policy and Standards Committee, which reviews drafts of all new and revised FSC Policies, Standards, Procedures and other normative FSC documents on behalf of the international FSC Board of Directors. Janette created and coordinated the Amerindian Research Unit at the University of Guyana during 1985-1999. She was a Senior Social Scientist at the Iwokrama International Centre for Rainforest Conservation and Development in Guyana from 2000 to 2003. Her most recent appointments were at Colby College in Maine, USA, and at the Field Museum in Chicago for its Andes/Amazon Program.
Janette Bulkan gained her master's degree from the University of Texas at Austin and her doctoral degree from Yale University's School of Forestry and Environmental Studies. She is an Assistant Professor in the UBC Forest Resources Management department.
---
Dr. Jeff Sayer
Prof. Jeff Sayer is an ecologist who has worked at the interface of research and conservation practice in many tropical countries and for many different organizations. Jeff's approach to conservation and sustainable management has been very much influenced by working in areas where poverty is prevalent and where solutions to forest conservation and management problems have to align with the needs to improve the livelihoods of local people. Jeff has been a pioneer in the development of integrated landscape approaches where the locus of decision making on forests is moved as close to the ground as possible. Jeff has had a long-term involvement in several forest landscapes in the tropics but particularly in the Congo Basin and Indonesia. Jeff launched and then headed the Forest Conservation Program at the International Union for the Conservation of Nature in Switzerland with forest conservation field activities all over the world and a portfolio of policy initiatives seeking solutions to forest problems that also meet human needs. Subsequently, Jeff was the founding Director of the Center for International Forestry Research with a global research mandate but its headquarters in Indonesia. CIFOR conducted strategic research on issues around forests and sustainable development. At UBC Jeff is contributing to the Masters of International Forestry and conducting research on forest landscape conservation in Indonesia and Central Africa.
---
Dr. Kenneth MacDicken
Dr. Ken MacDicken has worked in international forestry since 1975 in over 30 countries. His experience has ranged from working with indigenous people in small-scale forest management to very large private forestry companies, non-governmental, international and research organizations. He lived in Southeast Asia for over 20 years and worked for the Center for International Forestry Research (CIFOR), the Food and Agriculture Organization of the United Nations, the Asian Development Bank, the International Finance Corporation (World Bank Group), the Winrock International Institute for Agricultural Development and a number of private forestry companies. He was a member of the Intergovernmental Panel on Climate Change (IPCC) and developed the first forest carbon inventory methods, working on climate change mitigation projects in Africa, the Americas and Asia. He has published over 80 scientific papers and book chapters and has authored and edited textbooks on nitrogen fixing trees, research methods and agroforestry. He has a Bachelor's degrees (Natural Resources, general agriculture, forestry) from Washington State University, a Master's degree (Agronomy and soils) from the University of Hawaii and a Ph.D. (Forestry) from the University of British Columbia. He manages a small farm in the foothills of the Cascade mountains of Western Washington, USA. He currently serves as a Teaching Adjunct Professor in the UBC Faculty of Forestry and teaches Forest Business Enterprise as part of the MIF Program.
---
Dr. M Hosny El-Lakany
Dr. M Hosny El-Lakany holds a BSc in Agriculture and MSc in Forestry from Alexandria University, Egypt, a PhD in Forestry from the University of British Columbia, Canada, and a DSc honoris causa from Laval University, Quebec, Canada. Hosny was the Professor and Chairman of the Forestry Department at Alexandria University before joining the FAO as the Assistant Director-General/Head of the Forestry Department until his retirement. He was the inaugural chair of the Collaborative Partnership on Forests comprised of 14 international organizations in support of the United Nations Forum on Forests. Hosny is a member of several international scientific and professional organizations including the Boards of Trustees of CIFOR (Chairman, since Jan 2011) and ICRAF, the Canadian Institute of Forestry, the Executive Board of the Commonwealth Forestry Association, the External Advisory Group on the Forest Strategy of the World Bank (2003-2009), and the Editorial Board of the International Journal of Food and Nutrition. He has published more than 110 scientific papers and co-edited one book. As an International forestry policy consultant, Hosny has worked with the World Bank, ITTO, UNDP, UNEP, FAO, IUCN, GIZ, RRI, and other inter-governmental and non-governmental organizations. Currently, he is Professor Emeritus at Alexandria University, Egypt, and Adjunct Professor and Director of International Forestry at the Faculty of Forestry at UBC. He chairs the International Partnership on Forestry Education and lectures, supervises research, and consults in international forest policies and natural resource management. He is the founder and president of the International Forest Policy Consulting based in Vancouver, Canada, and an Adjunct Professor in the Forest Resources Management department at UBC.